Tourism Information
Sightseeing in Lyon
Close to the affiliated events (ENS Lyon)
The
Musée des Confluences
is a science centre and anthropology museum, at the confluence of the Rhône and the Saône, the southern tip of the Presqu'île.
Sunday reception at the Hôtel-Dieu
The Sunday reception will take place at the
Hôtel-Dieu
, a former hospital of historical significance inscribed on the UNESCO World Heritage List.
Close to the Congress Center
Eurocrypt 2023 will be held at the Centre des Congrès de Lyon, adjacent to the Parc de la Tête d'Or, a vast 19th century botanical and zoological parc. It is also next to the
contemporaty arts museum MAC Lyon
.
Historical center
The three main historical areas to visit in Lyon are:
the Vieux Lyon (the old city),
the Fourvière hill (the basilica and the roman amphitheatre),
the Croix-Rousse sidehill ("pentes de la Croix-Rousse").
The main areas and landmarks are highlighted in the map below.
Traboules
Lyon is known for its "traboules", a type of secret covered passageways, originally used by silk manufacturers and other merchants to transport their products. Here is a
map
with all the traboules (with details in French). The blue marks indicate which are open to the public, including the famous
Cours des Voraces
, and the
13 Rue de la Poulaillerie
. Be mindful that traboules traverse inhabited buildings, hence visitors are invited to remain quiet.
Frescos
Lyon is also known for its frescos. Among the most famous are the
Fresque des Lyonnais
and the
Mur des Canuts
, but there are many more all around the city. You can find more information
here
.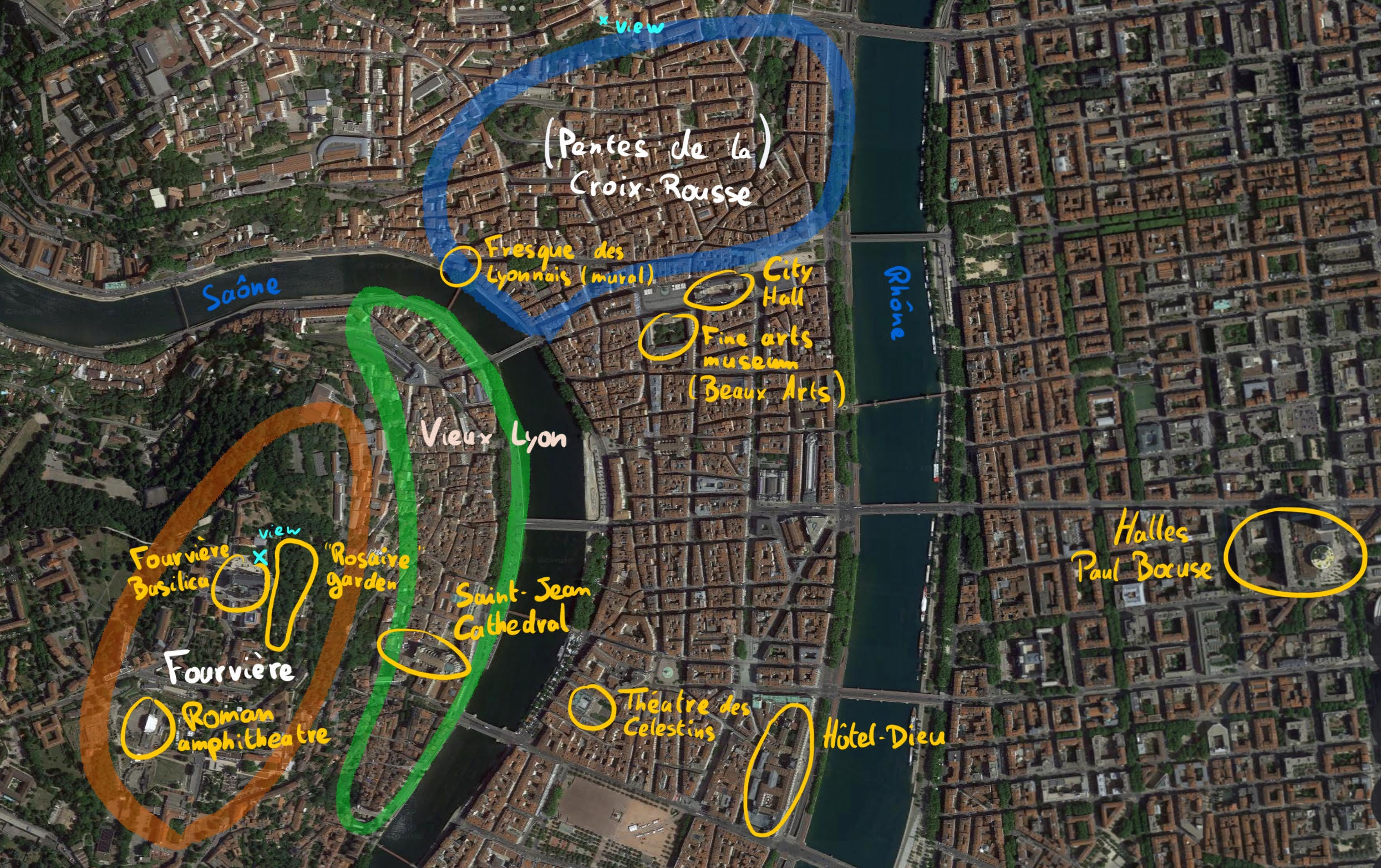 Food and Restaurants in Lyon
Market hall
The market hall Halles de Lyon Paul Bocuse hosts about sixty restaurants and vendors. It is close to the train station Part-Dieu. This emblematic place of "Lyonnaise" cuisine is named after 3 Michelin stars chef Paul Bocuse (1926-2018).
Restaurants
There is a high density of restaurants in Vieux Lyon (e.g., Rue du Boeuf) and in the city center (1st and 2nd districts, e.g., Rue Mercière, Rue des Marronniers). Fantastic restaurants are scattered all around Lyon, and not always in these densest areas. Some restaurants in Lyon are called "bouchon". A good bouchon will make for a typical Lyonnaise experience, but be aware that the dishes there are quite hearty, and rarely vegetarian.

Here is a selection of restaurants by neighbourhoods that are open on Monday and Thursday.
Vieux Lyon (historical center)
Bistrot Bondy, 2 quai de Bondy
La Gâche, 2 place du Petit Collège
Les Adrets, 30 rue du Boeuf (closed on Saturday and Sunday)
Lyon 1 (city center, Croix-Rousse sidehill)
Le Bouchon des Filles, 20 rue Sergent-Blandan
L'Origo, 2 rue Celu
Regain, 3 rue d'Algérie (closed on Saturday and Sunday)
Copains Copines sur la Colline, 3 rue Duviard
Lyon 2 (city center, Presqu'Île)
Les Infidèles, 57 rue Mercière
Café Arsène, 2 rue Vaubecour (closed on Saturday and Sunday)
Brasserie Georges, 30 cours de Verdun Perrache (can handle large groups!)
Lyon 6 (South of the parc bordering the congress center)
Les Apothicaires, 23 Rue De Sèze (closed on Saturday and Sunday)
Le Molière, 17 Rue Moliere (closed on Saturday and Sunday)
Lyon 7 (near the affiliated events, ENS Lyon)
El bar Debourg, 239 Rue Marcel Mérieux (closed on Sunday)
Chez Carlo, 241 rue Marcel Merieux
Caluire-et-Cuire (accross the bridge from the congress center)
La Terrasse Saint Clair, 2 Grande rue Saint Clair (closed on Saturday and Sunday)
The following are a few other great picks which are closed on Monday and Sunday. Some of them may require a reservation, or may be more expensive than other recommendations above.
Fluxus, 12 rue des Augustins
Sapna, 7 Rue de la Martinière
Culina Hortus, 38 rue de l'Arbre Sec
Le Cochon qui Boit, 23 rue Royale
Palm, 38 rue du boeuf
Casa Jaguar, 157 rue Cuvier
Bars
For wine
La Cave Des Voyageurs, 7 Place Saint-Paul
Victoire et Thomas, 27 Rue de l'Arbre Sec
Le Bar à Vin Bio, 17 Rue Désirée
Aromo, 15 Rue Montesquieu
Le Comptoir des Buvards, 76 Rue Saint-Georges
For cocktails
Kodama bar, 113 Quai de Pierre-Scize
Le Fantôme de l'Opéra, 19 Rue Royale
L'Artchimiste, 22 Rue Professeur Weill
L'Antiquaire, 20 Rue Hippolyte Flandrin
Le Bosquet, 32 Rue Pasteur
For beers
Jack's Bar, 3 Place Saint-Paul
Les Fleurs du Malt, 15 Quai Romain Rolland
Les Berthom, 24 Rue Pizay
La Fourmilière, 15 Rue Salomon Reinach
Orgao Beer House, 145 Rue Sébastien Gryphe